How to Make Money with Blogging in Nigeria
There are many ways to make money with through blogging. However, the popular routes are:
1.  Make Money with through blogging in Nigeria with Affiliate marketing
It's all about recommending affiliate products and making money. You can see how to start affiliate marketing.
2. Make Money with Your Blog in Nigeria through Advertisements
There are many networks like Google AdSense, the popular one remains AdSense.
So, another way to make money with your blog is to apply for AdSense and make money. Here is how to get approved on Google AdSense.
3. Sponsored posts
If you don't give up, people will come to you and want to sponsor posts on your blogging website.
Imagine that someone will want to advertise on one of my blogs with traffic less than 2,000 visits. 😆 Well, the structure of the blog is premium, so, there are high expectations.
(Side note – just this month in August 2021, someone contacted to promote its services on this site) 😉
4. Make Money with your Blog in Nigeria Freelancing
There will always be a need for only [the best] freelancers. For you, all you need to do is position yourself as one.
First, get a LinkedIn account and link your blog and put out some good content.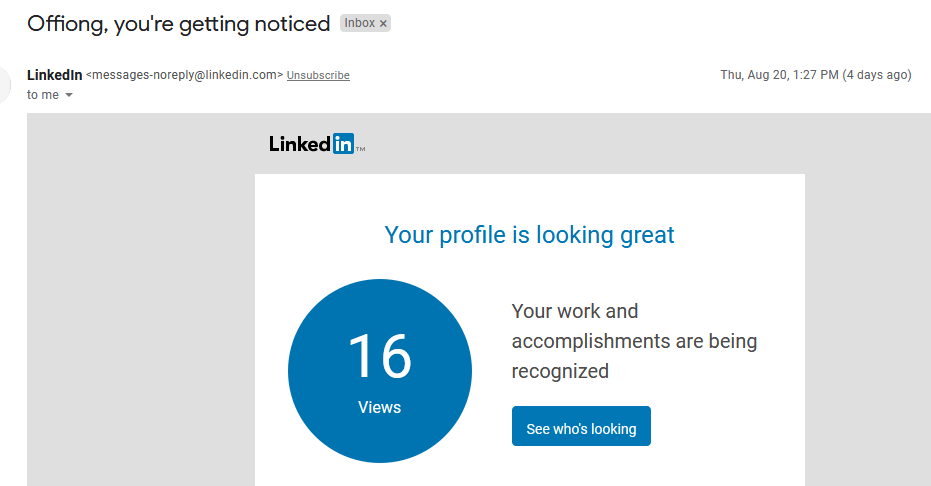 Note, do not rush over important things. Take time to google how to properly set up a LinkedIn account. That way you can get lucky and be featured/found on LinkedIn searches.
When done, come back to your blog and create a "hire me" page.
Again, after creating the "hire me page" on your blog, be sure to write on LinkedIn that you're a freelancer and you are open to working with clients.
Want an example? For me, I write ultimate guides – 2,500+, but I've got no time for that for now. But be sure to learn from Akinduyo Eniola of Guruscoach.com.
5. Make Money with Your Blog in Nigeria through Partnership
One influencer with an audience of more than 25,000 saw my post on course hosting platforms comparisons and was excited, so, he called me up to talk more about it on his platform. 😉
You can get the same experience. Just love what you're doing and put in the work excitedly.
6. Make Money with Your Blog in Nigeria through Personal Contact to promote products
I woke up on the 1st of August 2020 to see a consultation to promote an affiliate product. I think I shared it in our telegram group. That can also be your thing. Just put in the work now.
7. Make Money with Your Blog in Nigeria by creating a course
Gracefully, I have gathered some bad-ass insights through failures on blogging that I can create a course and relates to us.
That will be time-consuming as I would want it to be a video course. For instance, I will include advanced stuff you might not get anywhere.
Just in case I will create "a course on blogging in your pajamas", I already made a video review on how I optimized one of my money articles to jump from page 2 to number 9 on page 1. And currently, it is at number 4.
What am I currently testing?
I am experimenting featured snippets, and of course, I have 4 more blogs to write 100 blog posts each, so no time for now for a course unless otherwise.
Disclosure: the thing is, there is a portion of time for you if you have any issues with your blog or journey as far as you were careful to use my affiliate link and sign up for a product or service.
To learn more about snippets and how I set it up for an article to jump from number #6 to the number #1 spot, be sure to see Case Study 4 for month September. It is written and proofread but not published yet.
8.  Make Money with your Blog in Nigeria when hired
I'm super excited, you know why? When the Grace of the Lord is sufficient with your hard work in place, rooms and opportunities will always open to you; where you appear as being lucky.
Just imagine that I woke since 11:43pm and it is 6:15am the next day, yet I am not through, doing what exactly? Writing this case study.
Just this month (August 2020), an Australian Magazine site with a monthly traffic of 800k contacted me to become one of their content writers. That is, working from my country wasn't a problem.
In case you call it luck. I do think that none of these would have happen if I was sleeping in my blankets and not doing the needful.
So, if you love your job and value your audiences as I do
, you can get hired which the source of exposure will be via your blog.
We are almost done. The very last. How to start blogging in Nigeria.
How to start blogging in Nigeria in 3 steps
To start blogging in Nigeria, you need just 3 things. #1. You need a domain name #2. A hosting service, and #3. A CMS – software to build your blog.
With IsuaWealthyPlace you will get 2 things for free, meaning, you will pay for only 1 – hosting service for your blogging.
Domain name costing $9+ is free for you.
CMS to use and build your blog is free – WordPress
All you will need to pay for is a hosting service, that is, a service that will make your site active and working.
To get all these, we will head over to HostGator.com and pay for a hosting fee which is cheap as you can start your blog at $2.75 only per month.
Based on firsthand usage, as far as you're a beginner or your blog receives less than 60,000 visits a month, HostGator is cheap and capable to give you value for your money.