ATTENTION: Info-Marketers, Ecom Marketers, Affiliate Marketers, Network Marketers
Let Me Show You the

 Simple Google Traffic System

 I Use to Get Tons of High Converting Traffic to My Website…
SEE PROOFS!
---
Even if you are complete newbie ,

this Google ads system will make it simpler and faster for you to get quality traffic to your website
---

If you have been looking for a way to get more targeted and stress free traffic to your website, then I have good news for you.
My name is Ademiluyi Adegboyega, popularly known as 'The Prof' and something happened to me in 2018 that led me to the traffic discovery you are about to get.
What happened is that all my advert accounts on Facebook was banned.
And this almost shut down my entire business.
My business was back to zero.

Even my students ended up having the same issue and as their mentor and coach whom they looked up to.

I needed to provide a solution to help their business back up.

That singular decision to start to learn and experiment made me to harness the expertise to run profitable campaign on the google advertising platform via the display network
And that is how I stumbled on a new traffic source which is one of the most underutilized google feature here in Nigeria especially by marketers and business owners.
That feature is called The Google Display Network [GDN]
The GDN is Google's robust network where you can run your ads and take advantage of audience targeting, keyword targeting, website targeting, app targeting and more.
So, I started trying it out and the results were so outstanding that I had to increase the amount of money I was spending to drive traffic
As At the Time of Writing This, I Have Spent About $7120 In Ad Spend On GDN

As you can see in the Image above, this brought about 385,000 targeted visitors to our website
And sales over this period of running this campaign to just these two websites has simply been through the roof. 

Each month, we generate sales of between 3-5 million Naira in total verified sales in the products we distribute for my own brand [Physical and Digital] and that of the company I am a distributor with
Check Out the Traffic Stats to One of My Websites From GDN

And Here Are Traffic Stats to Another Website of Mine – Also From GDN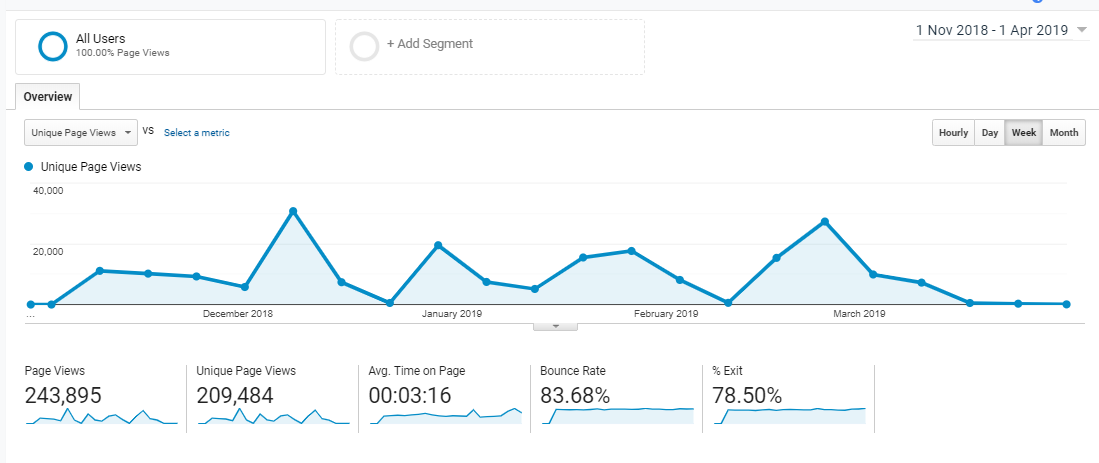 ---
Here is What You Need to Know About the Google Display Network
The Google Ads Display Network gives you the advantage to show your business in all of the websites that the google website code is integrated with.

Just imagine having your ads been shown on a top popular website like legit.ng, lindaikejisblog.com, channels tv etc without having to pay the huge amount of money this platforms charges you to have your ads on their website from the traffic they receive daily.

Legit.ng Charges about N200,000 Per Sponsored Post

Linda Ikeji Now Charges N100,000 Per Sponsored Post

And this is not just limited to websites.

Apps are also included.

Have you ever opened an app on your phone and while going through the article or video content, you start to see some ads displayed in the app?

Yep… You got that right.
Here Are 3 Reasons Why You Should Start Using

Google Display Ads to Drive Tons of Traffic to Your Website
Google Traffic can never get exhausted which is why everyone can get on board to promote their business right there.
It is very easy to setup which is what my Google ads display course would help you to achieve.
You can easily promote any link on Google so long as you have the basic things that is needed in your site that allows you to run your ads. 
These Results Led Me to Create a Training Called "The Google Ads Display Profit System"
This is a step by step two hours video tutorial where I share with you…
How To Setup Your Google Adword's Account From Scratch
How To Setup Your Google Analytics Account For Your Website
How To Setup Your Google Conversion Tracker To Help You Easily Track Leads And Sales Of The Campaign You Are Running.
How To Target The Right Set Of People Who Are Interested In Your Products Or Services
My Special Secret Guide To Writing Google Ad Copy For Products Even If You Do Not Know Jack About Copywriting.
How To Restrict Your Ads To Selected Special Websites That Would Increase Your Overall Profit To Your Business.
How To Optimize And Scale Your Ads
How To Ensure You Keep A Clean Account To Avoid Getting Disapproved Or Suspended From The Google Network. Trust Me, You Do Not Want To Face Their Suspension Problem
The Easiest Way To Run Graphic Banner Ads On The Google Display Network And Have It All Setup In Less Than 30 Minutes.
How To Use The Right Payment Methods That Helps To Avoid Getting Suspended On The Google Network
Here Is a Breakdown of the Google Ads Display Training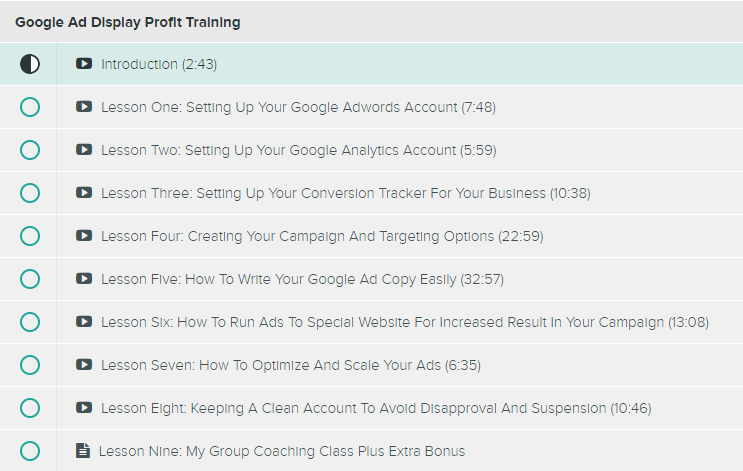 What People are Saying About the Google Ads Display Training:
Doctor Seyi
Mrs Grace (E-commerce & Network Marketer)
Akintunde Felix
Ms Ayobami
More Feedback From Students of this Training: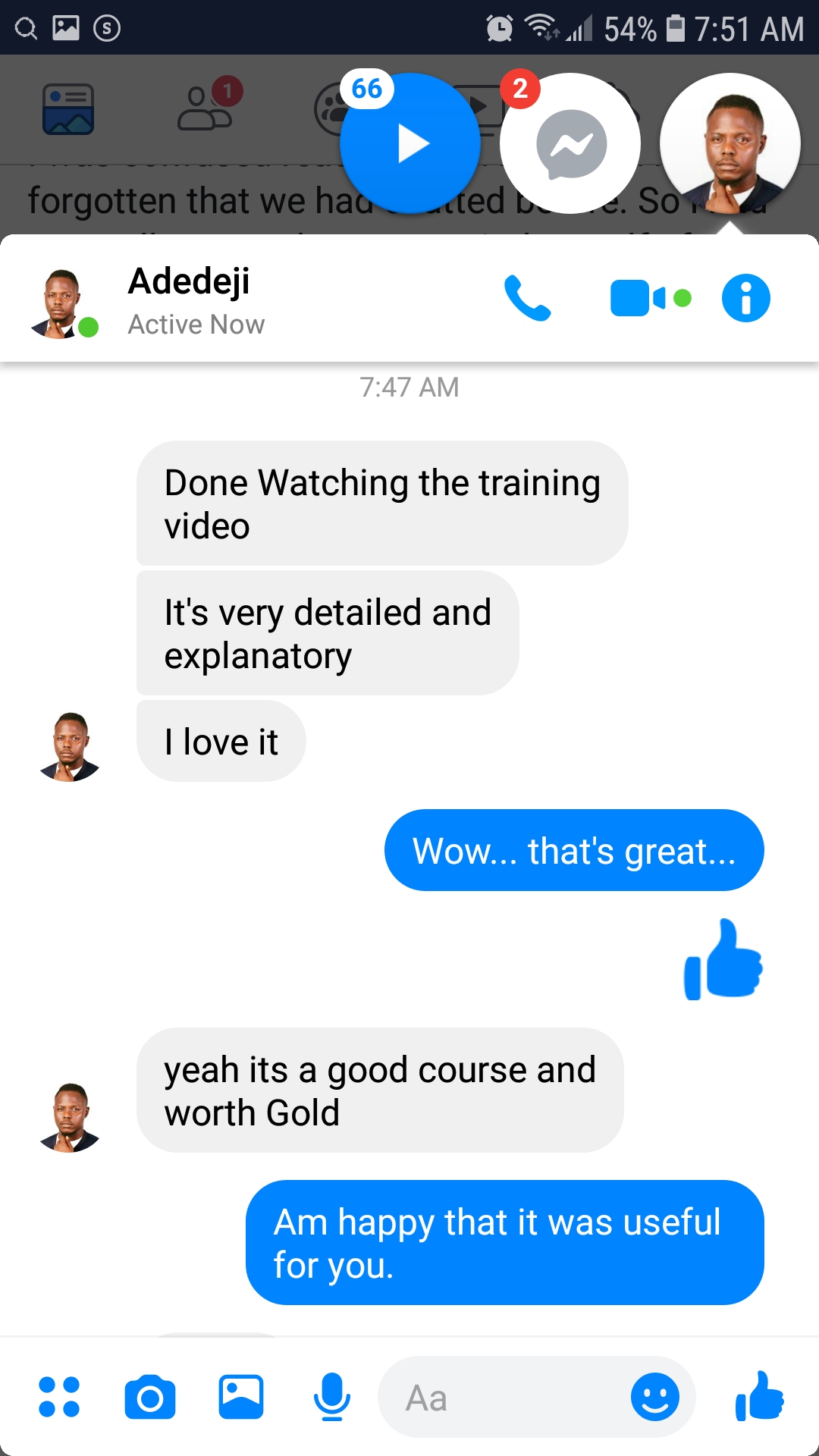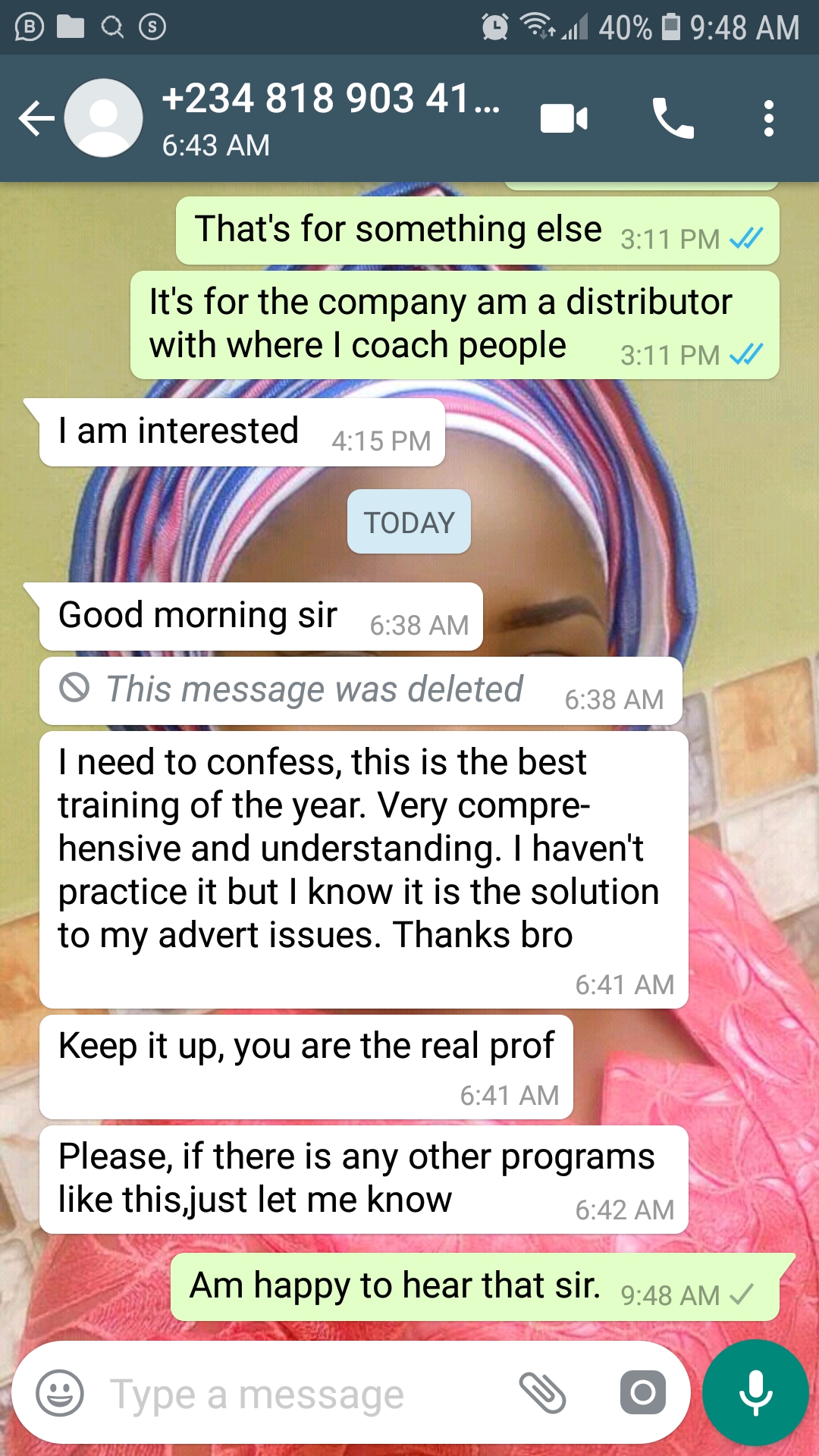 How Much Does It Cost to Enroll For the Google Ads Display Training?
Well, I'm not going to waste your time.

Having seen that my training produces results both for myself and my students, and having seen my sound track record as an experienced blogger and internet marketer.
Your Tuition Fee for the Google Ads Display Training Program Is N15,000 Only​
Click Here to Enroll​​Pay with your ATM card or direct bank deposit
---
Now That's Not All You Will Be Getting For This Training
You see…

I want you all to get it right once you go through my program and that is why I will be providing A Special Access To My Support Facebook Group

This support group is to help ensure that all those having issue with setting up is attended to.

As far as implementation is concerned, Support is needed to ensure that you don't have any issues when setting up your ads, that way you can get to leverage on getting me to answer questions that might be an hindrance to having a successful campaign.
Are You Ready to Get Started With the Google Ads Display Training?
N15,000 Only Get Started Today​​ Pay with your ATM card or direct bank deposit
Your Investment In the Google Ads Display Training Is Backed By My 100% NO-Questions-Asked Money-Back Guarantee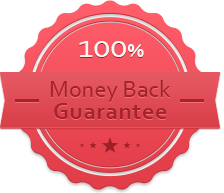 ---
If you go ahead and invest in the "The Google Ads Display Training Program" and follow the step by step instructions and you are not able to set up a Google Display traffic campaign within 30 days, then feel free to request for a refund of your money and your tuition fee will be refunded to you. It's as simple as that
.​Enroll Today​​Pay with your ATM card or direct bank deposit
---
FREQUENTLY ASKED QUESTIONS
QUESTION: Who is Eligible to Enroll for the Google Ads Display Profit System?

ANSWER: This video course is suitable for anyone running an online business.
It is for coaches, real estate marketers, trainers, speakers, authors, Mini Importation merchants, network marketers, etc
Its not limited irrespective of the industry that you are in because, you will have the opportunity of showing your ads to thousands of websites on a daily basis where you can then get your own potential customer or subscriber to your business.

QUESTION: Is Google Ads More Expensive Than Facebook Ads?

ANSWER: Yes It is. You need to understand that both Facebook and google advertising platform are two completely different advertising platforms. Facebook is social. Google Isn't.
So you will definitely pay more and have the opportunity of having your website been display in several thousands of website all at the same time via the display feature that this course is all about.
So you are in the right hands.

QUESTION: How Easy is GDN to Use For A Complete Newbie?

ANSWER: I believe that everyone looking to get traffic already have their website up and ready to go and if you do not have. You should get that sorted.
With that in mind, This course is straight to the point and shows you exactly what you need to know in creating a profitable google display ad campaign.
This is also why I had to bring down the hours to video length to about Two Hours to ensure that you get it and can always re-watch at a glance whenever you have any problem.

QUESTION: How do I get to contact you for support right after I purchase this video course.

ANSWER: There is a bonus Facebook Group Attached to this course where i will be there to also help answer whatever problem you might encounter as far as running your campaign is concerned.
This is to ensure that beginners are able to get help when needed either through myself or other members that has purchased this course.

QUESTION: Can I Watch And Setup The Ads With My Phone

ANSWER: I would recommend you watch the video and setup your ads via your laptop.

QUESTION: How Can I Enroll For The Program

ANSWER: It's Simple. Just click the order button below​Enroll Today ​Pay with your ATM card or direct bank deposit
Register a new account
Are you a member? Login now